Top 7 Hidden Gems To Visit In Los Angeles
Los Angeles is a city filled with attractions and landmarks to visit, events to attend, and adventures to go on. It's famous for its conventions, movie production, celebrities, beaches, and mountains. However, most people don't know that Los Angeles has more to offer than Disneyland and Hollywood.
From tucked-away restaurants to hidden art galleries, it is also home to some of the most unique attractions that you will not find anywhere else in the world. If you're looking for something that's off-the-beaten-path, you will definitely find it in Los Angeles.
And if you're going to come here for a trip, you should definitely go beyond the touristy spots. Let's check out the 7 cool hidden gems in Los Angeles below!
1. The Korean Friendship Bell
The Korean Bell of Friendship is one of Los Angeles' most beautiful hidden gems. The South Korean government presented it to the United States in 1975 to honor veterans of the Korean War and as a token of friendship.
Its intricate design is rich in symbolism and traditional imagery, and it's a tourist place for locals looking to get away from the city and take some unique photos.
2. The Bunny Museum Los Angeles
The Bunny Museum is one of the most unique museums in California. This Museum, which has been open to the public since 1998, houses over 43,134 rabbit-related items. It is also known as the "Hoppiest Place on Earth," houses a massive collection of rabbit-themed items including ceramic rabbits, stuffed rabbits, cookie-jar rabbits, and more.
3. The Old Los Angeles Zoo
If you're looking for hidden gems in Los Angeles, the Old Los Angeles Zoo is one of the strangest attractions in the state. The original Los Angeles Zoo was established in Griffith Park in 1912 and is now an abandoned park with picnic areas near the old animal cages and stone structures.
4. The Baldwin Hills Scenic Overlook
The Baldwin Park Scenic Overlook is an excellent destination for anyone looking for spectacular views of the city. The Baldwin Hills Scenic Overlook, also known as the Culver City Stairs, has some of the most spectacular hidden views in Los Angeles.
Get picture-perfect views of Downtown Los Angeles, the Hollywood sign, and the Pacific Ocean by ascending this picturesque outdoor staircase up a small hill.
Mosaic Tile House is a beautiful and colorful stop. The entire 1940s house and property is covered in colored tile, splintered glass mosaics, and various materials, both inside and out. Don't miss out on a visit to this quirky place — it's definitely one of the most unique destinations in California.
The Spadena House is is a stop on any tour of Beverly Hills' neighborhoods. It was built in 1921 by Hollywood art director Harry Oliver and is also known as the Witch's House. You'll adore the features on observation, which include a picket fence, an oddly shaped and sweeping roof, twisting trees, off-center shutters, and a garden where a moat once stood.
7. Museum of Jurassic Technology Los Angeles (MJT)​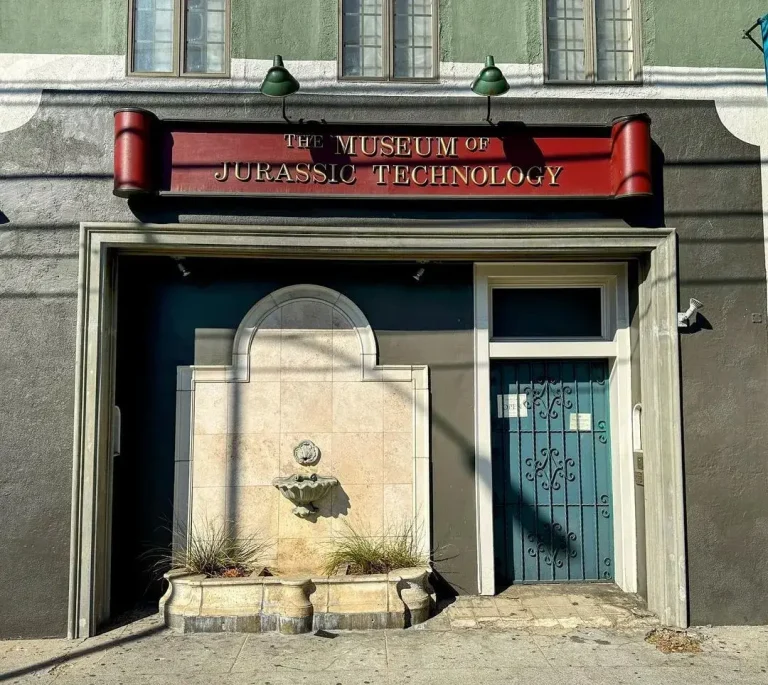 Explore the odd but fascinating exhibits at the Museum of Jurassic Technology. The museum's one-of-a-kind displays include historical, scientific, and artistic artifacts.
For instance, the exhibit Lives of Perfect Creatures: Dogs of the Soviet Space Program tells the tales of real animals who have traveled to space. The maze-like floor plan of the dimly lit museum provides the backdrop for a wide range of exhibits that cover art, science, anthropology, and philosophy.
Conclusion:
Los Angeles is a well-rounded destination, offering plenty of unique attractions that are sure to leave an impression on you. So if you're looking for something beyond the usual tourist options, try any one of these hidden gems in Los Angeles California sometime soon and you'll understand what makes Los Angeles a truly amazing place to visit.
And now that you have a few more ideas for places to go while you're in the area, pack your bags and call us to book a ride! All of your travel needs can be easily booked with Uridela!
For more details, visit our profiles on Facebook, Twitter, and Instagram. Our app is also available on the Apple Store and Google Playstore. You can count on a trouble-free journey. We'll get you there in comfort and safety.